---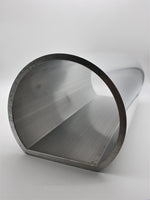 The D shape plenum material is extruded from 6063 aluminum. This plenum material is designed with forced induction in mind. Large 4.5" ID offers maximum plenum volume for turbo or supercharged applications. The unique D shape makes it easy for one off fabrication of a manifold while still keeping the performance to a maximum. Quarter inch wall thickness insures strength compared to hand building a sheet metal intake. When ordering set the quantity field to the amount of feet you would like to purchase.
After you add to cart, enter the amount in the quantity box and press the update button.
**Specific Shipping info - Please keep cut lengths 48" or shorter. Our max packaging length is 48". USPS international shipping limits max length to 42 inches. If ordering large quantities, please specify saw cut lengths that will stay under the max 48" or 42" length.
RMR reserves the right to charge for multiple saw cuts at $1.00 per cut. RMR also reserves the right to charge for extra shipping charges for large quantities of rail ordered through our online store given the shipping calculator doesn't always cover for the weight/length.